1973 PONTIAC PAGE
To go to the gallery of 1973 full sized Pontiacs, click on the 1973 Pontiac below.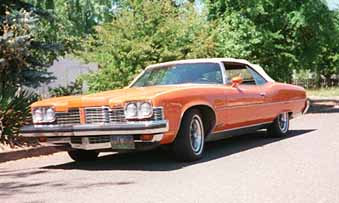 I have many pictures of 1973 Pontiacs posted on my page of yellow cars: index.htm. Though they are not yellow, they are unusual cars.
The 1973 Pontiac is a BUFF car. These are the ultimate urban assault vehicles.
Why the 1973 Pontiac is the Ultimate Urban Assault Vehicle.
They are made of heavy gage steel so someone kicks the door they will get a broken foot as opposed to the new BUFF sport utilities where they will cause major sheet metal damage.

Note the size and shape of the front bumper. If someone tries to squeeze in to either side of you and get to close, the bumper side overhang will tear the sheet metal off of that car.

Since they have a full steel frame they will go through a lesser vehicle, rather their hood crumple.

They are but ugly.

They are fast.

They have the all steel heavy duty turbo-hydromatic transmission, the best one ever made. So good that Rolls Royce put in in their contemporary cars.

No one will steal them (what good is an urban assault vehicle if you fear that when you park them someone has its eye on it to take it).

Finally, have you ever damaged your car tapping the wall of a parking lot at low speeds? This car will not have damage because the front bumper is mounted on shock absorbers and is covered by a 1 inch thick piece of solid foam rubber. (Try that with a Cherokee or an Explorer and you will exceed your insurance deductible.)
These cars have Pontiac engines, the best engines ever made and with the biggest cooling systems ever made. Pontiac designed its engines for racing, so they had super large cooling systems of 20-26 quarts(some competing V-8s had cooling systems half of this size). This made these cars ideal for towing because they could not overheat unless you drained the coolant. Note: the big coolant system was the reason that GM chose to discontinue the Pontiac V-8. Because it had a big cooling system it tended to run cool and therefore could not maintain the low emissions standards required by the government. (Note GM had to make a settlement with the government because some of the last cars with Pontiac V-8s could not meet emissions standards.)
The 1973 full sized Pontiac consisted of the following models:
Catalina (2-door hardtop, 4-door hardtop, 4-door sedan)

Catalina Safari (2-seat wagon, 3-seat wagon) (wood grain was an option)

Bonneville (2-door hardtop, 4-door hardtop, 4-door sedan)

Grand Ville (2-door hardtop, 4-door hardtop ) (these had a different roof than the Catalina and the Bonneville) (2-door convertible)

Grand Safari (2-seat wagon, 3-seat wagon) (wood grain was an option) (note: Frank Sinatra owned one of these. It was recently auctioned at an antique/classic car auction. If you have a picture of it, please send me a copy. I would like to post it on my page.)
GALLERY OF 1973 FULL SIZED PONTIACS
Grand Ville Hearse (Several Hearses)

If you have a additional pictures of 1973 full sized Pontiacs, e-mail them to me and I will post it on this page. If you have a web site with a 1973 Pontiac, send me the address and I will post a link. My e-mail address is yellowcar@fcmail.com.
For questions, comments, submissions, contact yellowcar@fcmail.com.
To view my page on YELLOW CARS click on: index.html.
This page last updated December 18th 1999.